pineapple cutting machine
pineapple peeled in 20 seconds!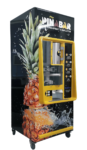 pineapple peeled instantly for a unique and engaging experience
designed in holland
bespoke graphic design
easy to clean
compact: the rotation allows the machine to peel the pineapple while it turns on itself
quick and easy self-service machine
different types of cuts
equipped with wheels for easy placement
marketing tool: it improves the shopping experience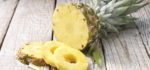 with Piñabar shopping becomes an experience
and peeling the pineapple is fun!
The Piñabar is the most innovative pineapple-slicer on the market today. Our patented system enables the best peeled pineapples in just 20 seconds. Delivering you the fastest and freshest in-store pineapple experience. Get ready for genuinely fresh pineapples, peeled right in front of your eyes. There is no fresher substitute than this. No conservatives, just fresh pineapple.
The Piñabar has stop power and can be fitted in your store routing. Attract customers to your fresh corner and let them experience the Piñabar. Our machine is a branding tool for your marketing department. It can be customized in style and color. Furthermore delivering the extra service of cutting the pineapples next to selling them is customer service at its best.
Increase your sales with Piñabar: increase of pineapple sales up to 800%, decrease in spoilage, increase in category sales and obviously a decrease in fresh cut labor costs.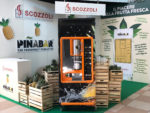 1. BLUEREDgroup spa
Modena
14. CONAD
Carbonia - Iglesias
16. IPER - LA GRANDE I
Treviso
24. PAM - PANORAMA
Venezia
35. IPER - LA GRANDE I
Alessandria
44. IPER - LA GRANDE I
Cremona
45. IPER - LA GRANDE I
Bergamo
46. IPER - LA GRANDE I
Bergamo
47. IPER - LA GRANDE I
Milano
48. IPER - LA GRANDE I
Bergamo
49. IPER - LA GRANDE I
Alessandria
50. IPER - LA GRANDE I
Alessandria
51. IPER - LA GRANDE I
Alessandria
52. IPER - LA GRANDE I
Alessandria
53. IPER - LA GRANDE I
Bergamo
54. IPER - LA GRANDE I
Alessandria
55. IPER - LA GRANDE I
Milano
56. IPER - LA GRANDE I
Verona
57. IPER - LA GRANDE I
Brescia
58. IPER - LA GRANDE I
Milano
59. IPER - LA GRANDE I
Roma
69. CONAD
Carbonia - Iglesias
71. IPER - LA GRANDE I
Varese
72. IPER - LA GRANDE I
Varese
75. IPER - LA GRANDE I
Pavia
78. BLUEREDgroup spa
Modena
119. IDEAL MARKET
Oristano